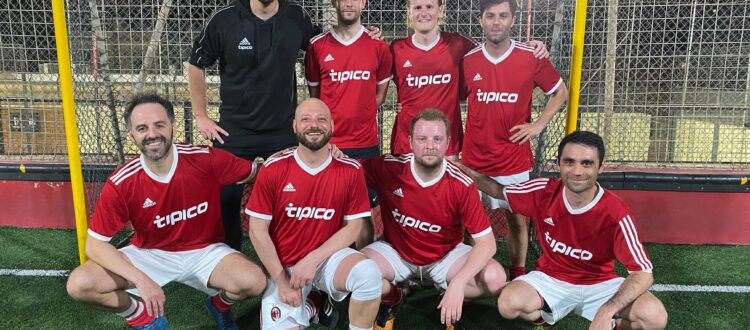 Tipico is Champion of Season 21/22
PAI League has a new champion.
Tipico managed to use the first match ball and, one game before the end of the season, secured first place on the standing  table of League 1. Against the Zeus Boys, who needed points in the fight to survive in the first league, they've played the most mature and organized game of the season.
At no point did they allow their victory to be called into question. After 3:0 at half time, it was clear to everyone that Tipico is the new champion of the PAI League for the 21/22 season.
However, at the beginning of the second half, the Zeus Boys managed to score, which opened up hope and gave the impetus for a better game below.
An approach followed in which the Zeus Boys attacked frantically, but simply did not have the strength to turn around. Tipico focused on defending his goal and after one quick counter-attack they managed to score for 4:1, which was the final result of the match. Congratulations to Tipico on an outstanding play throughout the season.
In the second Match same night, PWC Malta won against Aspire Global.
Both teams in the fight for the title of champion. PWC Malta and Aspire Global had the imperative to win.
Aspire Global started by high pressing which resulted by goal through Michael Debono, but PWC Malta quickly equalized. A period of better PWC play followed, which they managed to confirm and lead 3:1. However, Aspire Global did not give up and they managed to equalize the score but, by the end of the first half, the best player of the match Andrea Azzopardi, puts PWC in the lead again.
In the second half, careful play on both sides. Milan Puric manages to equalize again and the period when the game was broken follows. Both teams had their chances but in the crucial moments of the match PWC Malta proved to be a better rival who had more concentration in the final stage of attack.
In the end, the well-deserved victory of PWC Malta, who won second place in League 1.
The impression remains that Aspire could have provided a little more, but without almost all standard players in the first team, they lost the last few matches and won third place in League 1. Remains an opportunity to play a good match in the cup final, and to place at least one trophy from this season in the company's windows.