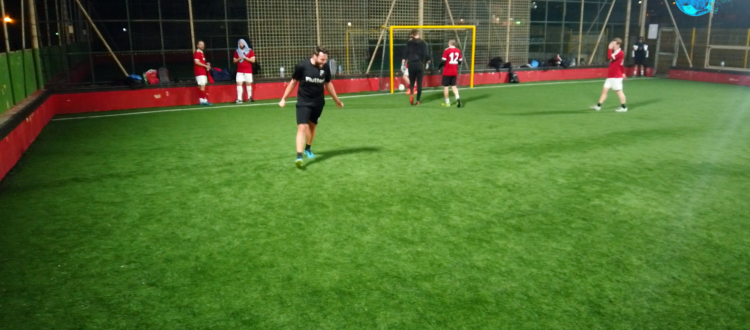 Flutter Shocks the League, Knocking Out Last Year's and This Year's Champions in PAI Cup Upset
The PAI Cup reached its 1/4 Final stage, and the matches did not disappoint.
The first match saw Comeon Group go head-to-head against Pentasia, who were riding high on a seven-match undefeated streak. Comeon showed great skill, but their mental game still needs work as they tend to relax once they take the lead, allowing their opponents to catch up. Despite Pentasia leaving their best player, Alexander Legrand, on the bench at halftime, he still managed to score four goals, but it wasn't enough to secure a win for his team. Comeon emerged victorious and secured their spot in the Semi Final, marking the biggest success in the company's history.
In another match, Simon Mamo Real Estate faced off against Harvest Technology, and the newcomers managed to emerge victorious. Simon Mamo's full squad finally played together, showcasing their full potential. Their strong and organized defence, paired with their fast counter-attack strategy, proved too much for Harvest Technology to handle. Although Harvest managed to get within one point in the beginning of the second half, Michael Zammit's two goals secured Simon Mamo's spot in the Semi Final, making them the only team from League 3 to advance. Could they pull off a major upset and take the trophy?
On the left side of the tournament, NOUV requested a match postponement, and Armstrong accepted to play the rematch, demonstrating great sportsmanship and embodying the spirit of the PAI League.
The final match of the 1/4 Final saw Flutter triumph over Tipico, who failed to save their season through the cup. Flutter, who had already kicked out almost-champions Casino Malta, continued their impressive run with their organized defence. Playing on a slightly smaller pitch, they didn't opt for high press and focused on defence, making it difficult for Tipico to organize a solid attack. With a lack of creativity in all phases of play, Tipico couldn't hold off the newcomers, and Flutter secured their spot in the Semi Final.
The stage is set for an exciting Semi Final, and we can't wait to see what happens next in the PAI Cup.
24.05. Armstrong Moonwalkers – NOUV Ltd. – POSTOPONED
24.05. Comeon Group – Simon Mamo Real Estate
SEMI FINAL
05.06. NOUV/Armstrong – Flutter
SEMI FINAL