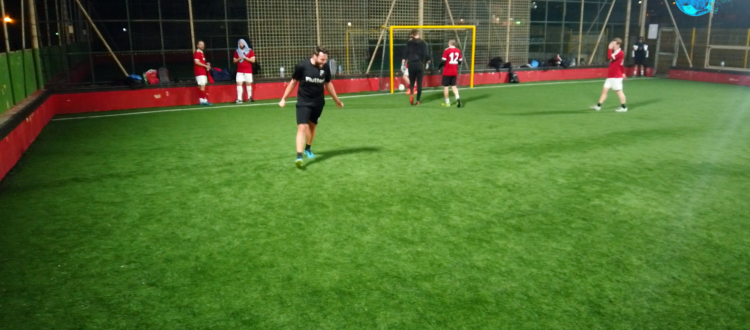 Last minute score secured Flutter's the much-needed victory
TIPICO – FLUTTER 4:5 (HT 3:3)
The match between Tipico and Flutter was a gruelling encounter, with both teams giving their all on the pitch. While Flutter put up a strong fight, they appeared to struggle towards the end of the game due to their lack of substitutions.
The match started with Flutter chasing the lead as they looked to assert their dominance early on. However, Tipico was not going to make it easy for them, and they put up a spirited fight. The first half was intense, with both teams creating several chances to score, but there's no team who managed to take the lead just before half time.
In the first half, it was clear that both teams were evenly matched as the score line was 3-3.
In the second half, the game became even more intense, with both teams pushing forward in search of the winning goal. It was a real battle of nerves as the players gave everything for the victory.
However, neither team was able to find the breakthrough, and the match continued in a thrilling 4-4 draw.
As the match approached its climax, both teams had their chances to score, but it was Flutter who emerged as the winner just before the referee blew the final whistle.
It was a hard-fought win that showed the character and determination of the team.
After an intense derby match against Tipico, Flutter now turns their attention to their next opponents, PWC Malta. Flutter will be looking to continue their impressive form and extend their winning streak to five matches.
PWC Malta will be a tough opponent, and Flutter will need to be at their best to secure the victory. However, with their confidence high, Flutter will be hoping to carry their momentum into the match and come out on top.
Meanwhile, Tipico faces a crucial match against Aspire Global as they try to avoid relegation. With the stakes high, Tipico will be under pressure to secure a victory to move up the table.
Aspire Global, however, will not make it easy for them. They will be looking to build on their recent form and secure a vital three points to come closer to leader Casino Malta. Tipico will need to be at their best to come away with a positive result.
In conclusion, both matches promise to be exciting encounters with high stakes. Flutter will be looking to continue their winning run, while Tipico will be hoping to avoid relegation with a much-needed victory. It will be interesting to see how both matches unfold.