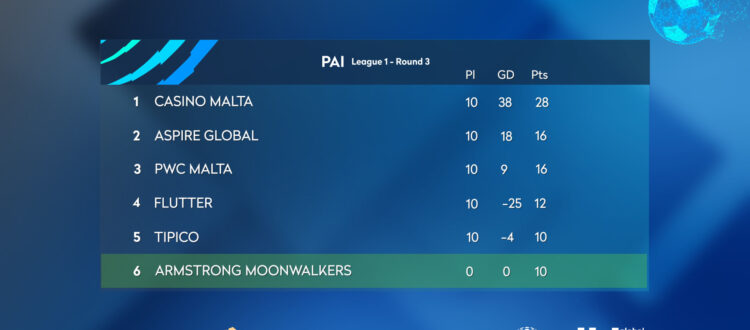 PAI LEAGUE – ROUND 3 – SEASON 22/23
League 1:
Casino Malta has been dominating the competition so far, playing some amazing football this season. It seems almost impossible for any other team to challenge them for the trophy this year.
Aspire Global and PWC Malta are currently sharing the second place while Flutter managed to climb up to the 4th place, leaving last year's champions Tipico behind. Comeon Group, the newly promoted team to League 1, struggled to survive in the elite group. Despite putting up a brave fight against Casino Malta, they couldn't win and eventually got relegated. They have final five matches of the season to try and get back to League 1.
League 2:
The final stages of Round 2 of League 2 were very interesting.
Stanleybet failed to win by more than 4 goals against Simon Mamo Real Estate, which allowed Armstrong Moonwalkers to secure a promotion to League 1.
Three top teams finished with the same amount of points, and Goal difference proved to be the deciding factor.
Simon Mamo Real Estate played well late in the competition, but it was not enough to avoid relegation to League 3 together with Polish Drinkers, who turned out to be the biggest negative surprise of this season.
League 3:
Pentasia and Pinnacle, on the other hand, played well in League 3 and deserved to be promoted. Pentasia managed to reorganize after relegation to League 3 and now have a strong team. Pinnacle created a good team during the season and, especially against Comeon Group in the PAI Cup, showed that they can play against top teams in the league.
Round 3 is set to continue next week, and it will be interesting to see how the teams perform.
Monday 20:30 Stanleybet – Comeon Group Pitch 4
Tuesday 20:30 Pinnacle – NOUV Pitch 3
Tuesday 21:30 Flutter – Tipico Pitch 3
Wednesday 21:00 Betway – Pentasia Pitch 2
Thursday 20:30 PWC Malta – Armstrong Moonwalkers Pitch 4
Thursday 21:30 Casino Malta – Aspire Global Pitch 4